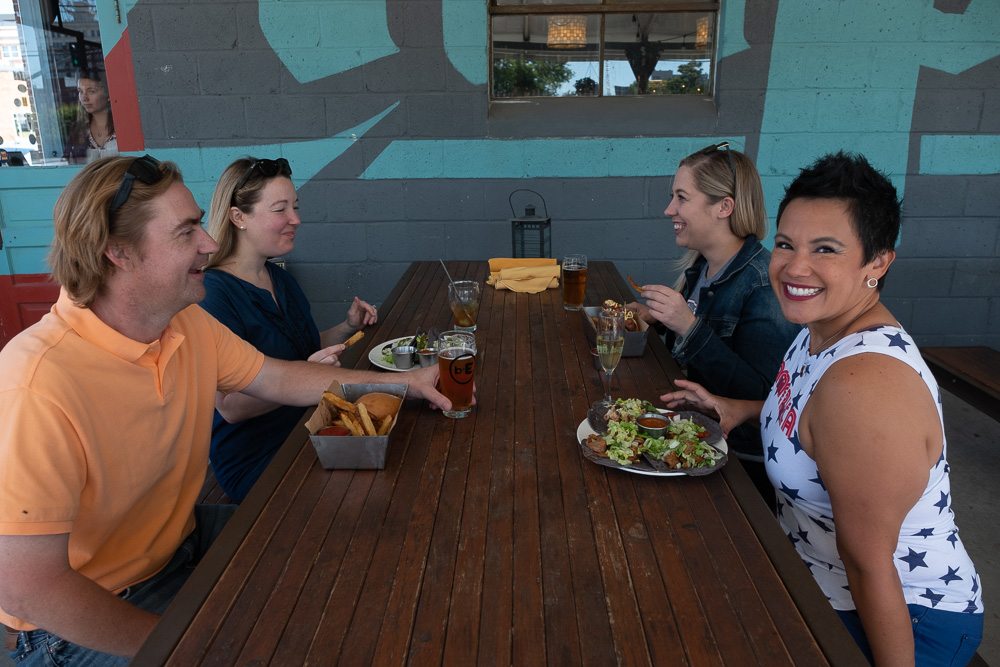 Kansas City has a lot of great public patios and rooftops – and not only just as part of a restaurant or bar. Here are a few that I think are unique and fun to check out if you're looking for something a little different.
Knuckeheads Saloon
When the weather is nice in KC, head to Knuckleheads to listen to music! There's an outdoor stage, which is grungy in a good way for watching a show. If there's not a show outside, but there is a show on the mainstage inside, they open up the place so you an indoor/outdoor experience. There's also another location across the street which opens up to the air. Seldom are the shows too pricey so even if you don't know who's playing, check it out. I promise you will like it, no matter your style. Bring cash. Be warned: they pour a strong cocktail here!
Anton's Taproom
Anton's is a high-quality butcher, preparing excellent meats. They are also a taproom, meaning there's a great selection of beer on top. (Cocktails and wines are also on point.) It has a great happy hour, too. But, the thing I like best is their yard behind the restaurant. It's like being in a backyard. They don't offer the full menu out there, and sometimes there's not even a server out there. It has the capability to have an outdoor bar, and I've been there for live music in the back. That was absolutely my favorite experience. It's very different and it's very cool. Dining inside the restaurant for a meal is overrated, though.
Green Roof Park
Green Roof Park is a quiet little get-away in downtown KC. It is accessed by the elevator you use for Cosentino's grocery and the parking garage it's attached ito. An artist commissioned to turn this roof into a park. It's great. I've gone there to nibble on my lunch and it is lovely. There are only a few benches so it's ideal if you have a little blanket.
Bar-K
I am not a pet owner or a dog-lover, but I did visit Bar K and I am very impressed! This is a great concept. The location within the city is an excellent choice. I like what they have created for the people and for the dogs. They really did think through everything. Hang out with your dog or watch the pups play from one of the balconies. They have food and booze.
Brewery Emperial
BE is the other place on my list which is kind of typical but just enough atypical to go on the list. The thing I like about it is the bonfire you can sit around with several strangers. The patio is huge. There are several umbrellas and overhangs so you can be sheltered from the sun on a really hot day. There's plenty of room for kids to stretch their legs (if you must bring your kids to a brewery). The overall vibe here is just great which helps this to be one of the best places to spend a nice day.
Cafe des Amis
Cafe des Amis is a very authentic French experience. The food and dessert are excellent. It's small and reservations are ideal. It's located about 18 minutes from downtown KC in a suburb, Parkville. To the side and back of the restaurant is outdoor seating. It's not really a patio, it's more just simple outdoor seating. But the experience is as if you've stepped into France and for that it's a remarkable experience.
Kansas City Public Library – Central Branch (Downtown KC)
What a fun little rooftop! Read up here, or enjoy the giant chess set. There is a coffee shop and cafe inside if you need something to enjoy while you're up there.
Ça Va
Although Ca Va's alley seating isn't the most unique, I still am adding it to my list. First, because it's chic. It's in the middle of Westport which can kind of be bro-city, and yet the little alley feels like you've stepped into Paris. Also, everything about Ca Va is perfect. I love spending a Sunday late morning here.
Vivilore
This is located in a suburb of GKC, and it's worth the visit. Indeed, this is kind of a "ladies who lunch" place so if you're turned off completely by that, don't bother. But if you are even kinda ok with it, be sure to go here. This is a restaurant and a boutique with interior design items to purchase. The patio is so incredibly beautiful and hidden. Such a great experience!
I hope you enjoy!