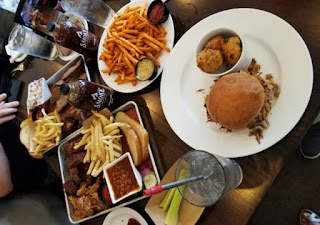 In 2017 or 2018, my friend Kurt and I decided we'd go to every BBQ place in the metro KC area. We've both grown up here, so we've eaten at the staples more than once. We looked to explore the ones we hadn't been to, or maybe had only been to once.
The list is long and I suppose it depends on how far out geographically you want to go from the city center. We go on lunch breaks so we can't get too far away. Some places we've tried are no longer open, some places closed before we could try them.
I wish I'd taken notes or written reviews from the beginning, to keep track of them all; but I didn't. We do not get the same food at every place. I sometimes forget, but I try to get my meat without sauce. I'm looking for a well-smoked flavor, moisture, proper cook temperature (rib meat should not completely fall off the bone), and a good bark. I am most interested in beans that have a great smoky flavor, are not too sweet, are not too soupy, and I favor beans with a little meat in them.
One thing that I've come to realize is in general Kansas City barbecue is sweet. I've lived here all my life and eaten a lot of BBQ but I never would have characterized it that way until now. There are of course the exceptions, those that are a little more vinegary like Arthur Bryant's or with a little more cinnamon like Rosedale's.
Here's a list of the places in KC that we have put on our list. If we've been there, I'm sharing either my very brief notes with you, or my Google review. Nothing's more personal or passionate than a Kansas Citian's opinion on 'cue, so keep in mind this is just how I felt about it! The places I really liked are in bold. I've given you the chance to save your money by thumbing down a few as well.

I've also created a BBQ Map!
❤️ Arthur Bryant's Barbeque This is the original barbeque that defines Kansas City. Its sauce is very different from what most Kansas City barbeque sauces are like, today. Most are sweeter, Bryant's is more vinegar-based. If you're going to only go to one place, you should go here just for the history.
Aunt Mildred's #10 Food Truck
Back Porch Bar-B-Q (Lee's Summit)
Barbed Wire
Batch Country Kitchen & Cue – permanently closed
B.B.'s Lawnside BBQ is a great place for live music and has outdoor seating.
Big T's Bar-B-Q  has two locations.
❤️ Blind Box BBQ – I hear the brunch is great. There's a new second location located in KCK in Nebraska Furniture Mart which includes a coffee shop.
👎 Brobeck's BBQ – We did not enjoy this restaurant. The style of BBQ wasn't indicative of Kansas City, and in general it was underwhelming.
Buck Tui, Overland Park
Burn Theory, Lee's Summit
❤️ The Burnt End BBQ & Catering, Overland Park. New location in Crown Center, KCMO has outdoor seating available.
Char Bar Smoked Meats & Amusements has lots of yard games and outdoor seating. Also has vegetarian options using Jack Fruit.
❤️ Chef J BBQ
Chick Hoove N Swine food truck- Town Center, Blade & Timber
👎 Chop's BBQ & Catering (Smithville)
EJ's Urban Eatery – Permanently closed. [EJ's didn't market itself as a BBQ joint. Their brisket is coffee-rubbed, they also have pulled pork. Both are pretty decent, but for sure I agree, it's not "Kansas City."]
F325 BBQ, North Kansas City – They prepare their meat at 325F vs low and slow like most KC BBQ. The result is a different BBQ experience. It wasn't my favorite, but I'd go back.
Fat Shack BBQ – This is a team which competes in Kansas City Barbeque Society (KCBS) competitions; and posts up around town to sell. Find them at Rockcreek Brewery in Mission, KS most commonly. 
Fireside BBQ Permanently closed.
❤️ Fox&Fire Food Truck Relocated to a permanent spot in Kearney, MO
❤️ Gates & Sons has multiple locations throughout the city.
❤️ Harp BBQ I visited their oop-up location alongside Crane Brewery, but they have since opened their own brick & mortar which I have yet to visit.
Hayward's Pit BBQ – The ribs here are great, the other items we had were unremarkable
❤️ Jack's Stack – I can't think of anything I don't like from Jack's Stack. There are multiple locations and some have patio seating.
❤️ Jazzy B's BBQ Call to learn if they're open. I've heard they shut down their brick & mortar but it's still listed on Facebook and Google.
❤️ Joe's Kansas City Bar-B-Que There are multiple locations but if you're just visiting KC you should go to the original in the gas station!
❤️ Jones Bar-B-Q is to-go, only; unless it's nice enough to eat at their picnic tables. They have a vending machine you can get hot meals from outside of business hours. as of fall 2022, their restaurant is up for sale, so check that it's open before you go.
Jousting Pigs (Liberty) I really liked this place a lot! It expanded to a second location, closed its original, and then closed its second.
Johnny's Olathe (Mission location is now closed) – I visited the Mission location just before it closed. If I understand correctly, the son owns the Olathe location. The father ran the Mission and retired in 2019.
Jonathan's BBQ, Olathe
Jon Russell's Kansas City Barbeque – our experience was that it was decent, but the portions were small. The turkey and burnt ends were their standouts. It's now permanently closed.
 The Junction – permanently closed.
👎 KC Baby Back Ribs – unsure if this is still openn.
❤️ LCs BBQ
❤️ A Little BBQ Joint has live music as well as outdoor seating available.
Lueck's Barbecue and General Store – Permanently closed
Luther's BBQ – Permanently closed
Madison Meat and Deli
Mad Mans KC BBQ – Permanently closed
Meat Mitch
Mudhole BBQ – Permanently closed
Night Goat, a ghost kitchen operating Sundays (order Saturday) out of Fox & Pearl
Off the Hook BBQ, Parkville, MO – This is a window, to-go only, and it has very limited hours. Even when you visit during posted hours, it might be closed. Call first.
Plowboys Barbeque – Permanently closed
Pullman BBQ, Parkville – permanently closed
Q39 – Multiple locations.
Quentin's BBQ
RJ's Bob-Be-Que Shack – I liked the food here. They serve breakfast, which I'd love to try.
Roscoe's BBQ – permanently closed
❤️ Rosedale BBQ I like Rosedale's BBQ sauce/rub but many people do not. It's quite unique.
Scott's Kitchen and Catering at Hangar 29 – I didn't have a great first experience here, but the smoked wings were excellent! I wrote a review on my second try, which was a take-out feast. 
❤️ SLAP's BBQ – No review to share, but Slap's is on the top of my list of BBQ in KC; although the last time I went there were flaws. Outdoor seating available.
❤️ Smoke Brewing Co has great beer, too; and outdoor seating.
❤️ Smokehouse Bar-B-Que has multiple locations.
Smoke 'n Magic is the team that won a competition for one-year free lease at the new Kansas City International Airport, which opened in Spring 2023. I was able to stop by there on my return flight. I live only ten minutes form the airport, so I took it home to eat it. It was unremarkable. It is not a business listed on Google so I could not write a review or add a photo online. Photo below.
Smokey's on the Boulevard – permanently closed.
Smokin' Guns BBQ Restaurant and Catering – Permanently closed
Summit Hickory Pit BBQ – permanently closed.
❤️ Tin Kitchen, in Weston, MO. (A day trip from KC.)
Top Hat Winery – permanently closed.
Three Little Pigs – permanently closed.
Wabash BBQ Excelsior Springs, MO. (A day trip from KC.)
Wolfepack BBQ – I visited their pop-up inside a brewery. They have since opened a brick & mortar I have yet to visit.
Zarda Bar-B-Q & Catering Co. – Another one I've been to many times, but never formally reviewed! Zarda's is pretty good, but not one of the tops in KC. (Although their beans are some of the best.)

BBQ on the Outskirts of KC
Ray Rae's Rib Shack, Pleasant Hill, MO
All Slabbed Up, Leavenworth, KS
Barbed Wire, Eudora, KS
Smoak Craft BBQ
Low-N-Slow Midwest BBQ, Lansing
K&M, Spring Hill
Oden's Family BBQ (Belton)
Snead's Bar-B-Q (Belton)
Food Trucks
The Jiggly Pig
Black Belt BBQ
Fire Canyon BBQ (Olathe)
KC BBQ Truck
Running Wild BBQ & Catering
Nikki-G's SoulQ Bistro
Rivals BBQ
3 Pigs BBQ