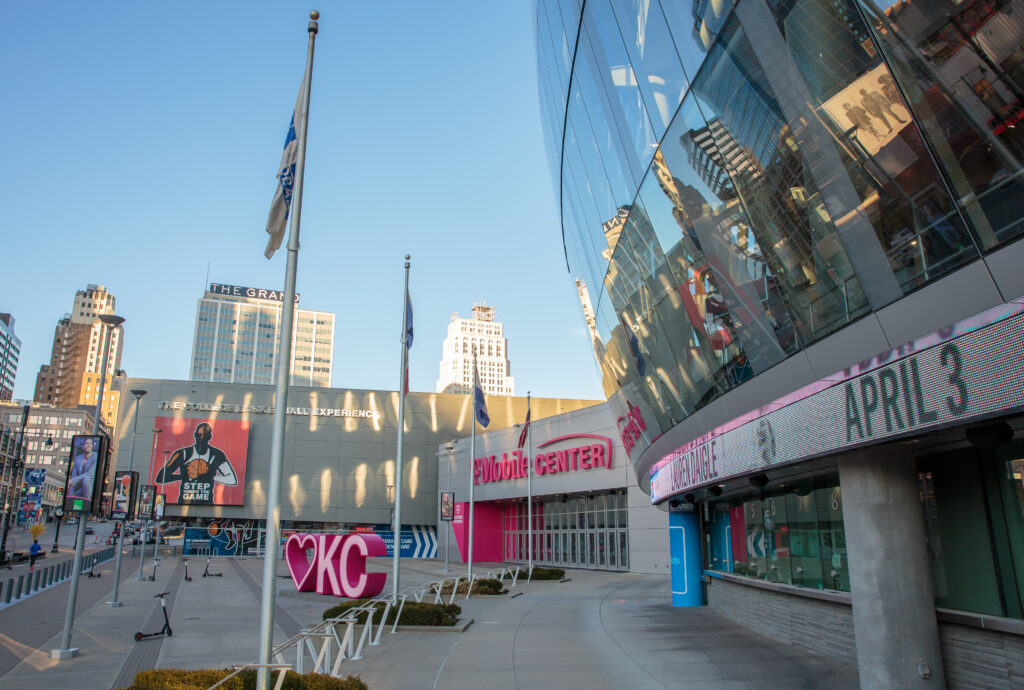 T-Mobile Center is Kansas City's largest arena and hosts all kinds of concerts, sporting events, and more. If you're headed to Kansas City for a show there (or to another major KC venue), here are a few tips you can use for a great experience. Be sure to check the list of items allowed in to the arena. There are standard prohibited items, but each specific show's rules are subject to change. It is a homeland security designated facility, so you will go through mags to ensure you are not carrying knives, guns, etc.
T-Mobile Center has two entrances, one via Grand Boulevard, the other via Oak Street. I recommend you enter via Oak Street. The entrance here is usually less crowded. It's also the entrance for ADA and where you can get dropped off or picked up if you're using a taxi or other ride service. The most ideal garage to park in is the garage at 1120 Oak Street. The access in/out of this garage is much quicker than those at 13th and Grand.
If entering from Grand, opt to use the parking garage that is under the Power & Light District's Live! Block, at 151 E. 13th Street. This is typically cheaper than the lot and garages on the other corners adjacent to T-Mobile Center. If you use T-Mobilefor cell phone service, you can use the T-Mobile Fast Pass lane, which is the doors closest to The College Basketball Experience. You just have to show your phone's home screen as proof you are a T-Mobile user. 
Looking to park for free? Utilize the Street Car! Parking is available near the North Loop stops at 601 Main and 711 Main. The Street Car stops at 14th and 12th streets, each will get you to T-Mobile Center, just start walking East.
If you have Happy Hour or dinner in mind, valet park for free at the Ambassador Hotel and enjoy the food and cocktails at the Reserve. It's only a two block walk to the arena, or they will drive you there.
If dive bars are your thing, head to the Zoo Bar. It's on McGee, this street intersects the front and back entrances of T-Mobile Center, and is between 13th and 12th streets. It's small, but a great place for a pre-or post-event drink. 
Once you're inside T-Mobile Center, if you bank with UMB, you can visit the UMB Count on More Lounge. They serve up free beers, have comfy seating, and charging ports. Note: some events prohibit alcohol service.
Want to have a little fun before the show? Visit The College Basketball Experience. Typically open Wednesday through Sunday until 6pm (an open daily in March and through the summer), it's the official hall of fame for men's college basketball. However, it's not a typical hall of fame, it's not museum-like. It's an interactive attraction with a ton of basketball things to do and to read. You can easily spend two hours or more in there. During Big 12 and similar tournament events, you can pass back and forth through a special entrance if you have tickets to both venues. 
T-Mobile Center is a great arena, and the staff is excellent. You will be amazed at how quickly they get the line moving once doors to a show opens.