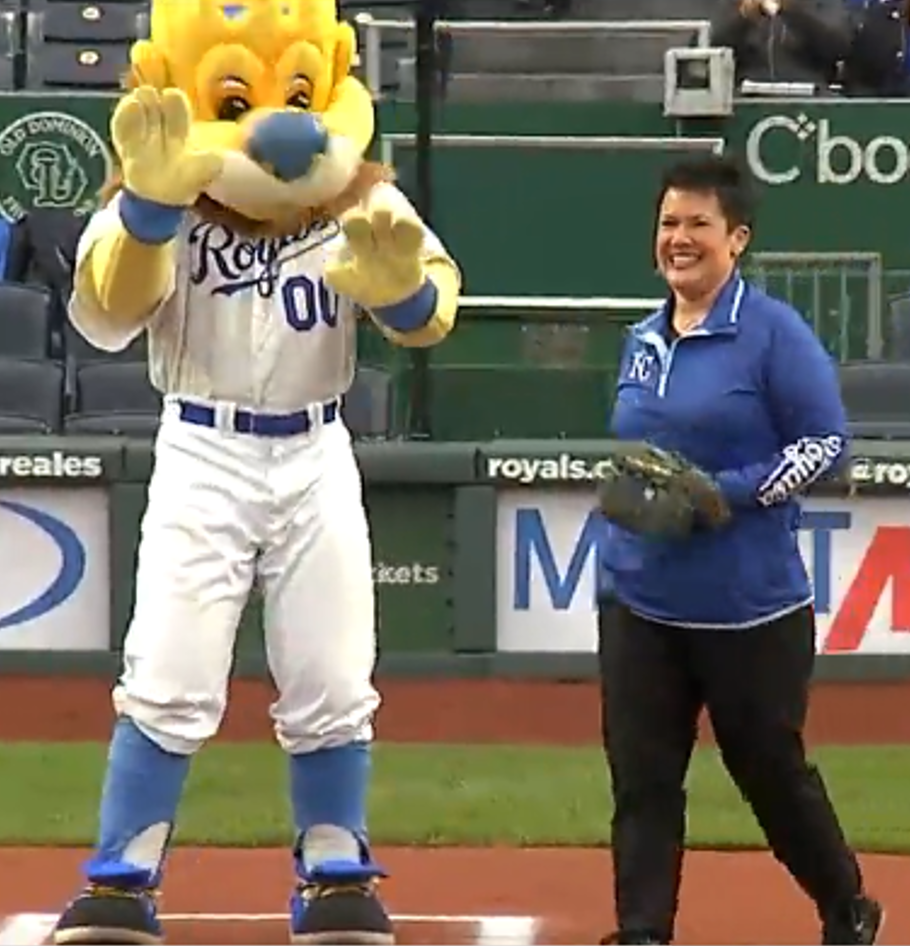 Here's a list of things you can do only in Kansas City, and a few things that maybe are elsewhere but are still pretty unique! We also have a ton of great festivals, seasonal attractions, lakes, and more that are quintessential KC, but here's a short list.
Hoop it up at the College Basketball Experience
It's fun! There's so much to do in here. It's the official hall of fame for men's college basketball* but it's not a typical museum or hall of fame. There's two floors of exhibits to read, and about a dozen skills challenges, including a full-sized court. You cannot get this anywhere else in America. *The women's hall of fame is in Knoxville, TN.
Hit the Bullseye at Blade & Timber Axe Throwing
Teens, adults, and seniors will have fun here.
Play and Dine at Chicken N Pickle
You can use the yard games for free, or sign up ahead to reserve a pickleball court (they have covered and outdoor courts). They smoke the chicken there and the food is great. They use a lot of locally sourced items in the kitchen as well as have local beers and spirits at the bar. Great for all ages. Within walking distance of the North KC location is: a small comedy and music venue, a locally-owned movie theater, and several local breweries and a distillery. There's a new location now added in southern KC.

Admire the Arts, Small Businesses, and Local Restaurants in the Crossroads
(Art District)First Fridays in the Crossroads is like a festival, with the many art studios open and offering snacks and wine. There's food trucks, music, and a large gathering of people. It goes for many blocks N/S and E/W. But even if it's not First Friday, there's many locally owned businesses to explore.

Rock On at Knuckleheads Saloon
A great place for live music. There is one outdoor stage, and two indoor. This is highly unique. BRING CASH.
Enjoy Weather and Music and More at Starlight Theater
Catch a concert or a Broadway show at this outdoor venue. It's great. You can make a day of it and visit our Zoo (next door) beforehand.
KC Jazz is Sexy at Green Lady Lounge
Great jazz club, which is newer, and attracts more of a hip and trendy crowd.
One of the classic jazz clubs, attracting a traditional and hip crowd. They have a jazzy brunch on Sundays, closing at 2pm.
Crossroads KC (music venue)Catch a concert at Crossroads KC and eat some pizza from Grinders. A great outdoor venue for concerts. Be ware: it's a mulch-covered ground so pick footwear accordingly. Bring hand sanitizer as well, there are few indoor restrooms and you'll likely end up using a port-a-potty. There's a ton of breweries, distilleries and restaurants around this where you can pre- or post-party. Plan to park a distance away. I think paying for VIP for a concert is totally worth it.
Catch the Kansas City Royals at Kauffman Stadium
Kauffman is a beautiful stadium! Go early and tailgate. Tailgating is a religion in KC and you'll end up making friends and eating with strangers, most likely. Pro tip: you can bring in ANY food. You can only bring one water bottle, sealed. You can bring in a soft-sided cooler. There are a few great areas to hang out in, before you take your seats, or instead of. The Crafts and Draft area is a bar with craft beers on draft and there's also a pizza kitchen. Rival's sports bar has some ticketed seating and some open seating. To score an open seat, get there when the gates open. You can also stand the whole game in the center outfield at the Party Porch. There's a huge children's area if you have wee ones.
Royals or Chiefs? How about both! They are located at the Truman Sports Complex. Google asked us Local Guides to make a video speaking about our favorite place on Google Maps in our city, here's my video about the Truman Sports Complex!
Set the Decibel Record While Cheering on the Kansas City Chiefs
Football season? You must get tickets to a Chiefs game. Even if you don't like football. But you'd better like energy and crowds. Do you research re: getting into the parking lot, parking fees, and plan to tailgate. Tailgating is a MUST. You can usually find someone selling tickets in the parking lot. Also research what is/not allowed in the stadium. Even if you can't get tickets to go into the game – – go tailgate and leave when they kick you out (after kickoff). The KC tailgating experience is a MUST.
Chant with Sporting Kansas City at Children's Mercy Park
You will have a blast watching our soccer team, Sporting! It's a beautiful stadium, there's free parking, and these games are FUN. You will sing and chant the entire time.
Scream Your Lungs Out at a Haunted House
If it's around Halloween, visit one of the many great haunted houses in the West Bottoms. Visit the Full Moon Productions website for a listing. It's 100% worth it to buy the packages and fast pass ahead of time online. Lines can be long and you don't want to wait for hours to be disappointed.
Take a day trip to Weston. Tour Holladay Distillery, Green Dirt Creamery, and Weston Brewery. Eat at Tin Kitchen. Visit the Whiskey Snug (inside Celtic Ranch). And end your evening at O'Malley's. (Plan a long time to spend there, you won't want to leave.)