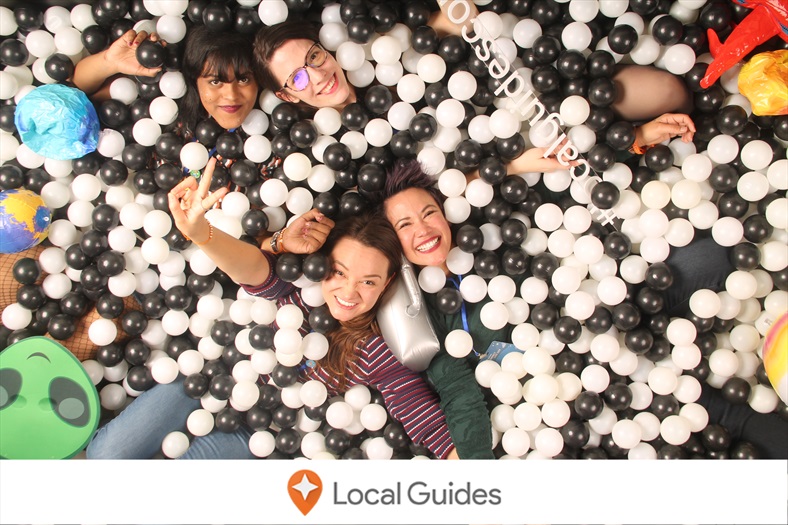 November 2019 – Sometime in mid to late fall 2017, a friend and I decided to visit every BBQ restaurant in the Greater Kansas City area. There's about a hundred. To keep it all straight, I started adding reviews to Google Maps. Google prompted me with questions that would help others about businesses, so I took the few seconds to answer. I started reviewing more businesses, answering more questions. Unbeknownst to me, I was accruing points for my contributions, and next thing you know – I'm a Google Local Guide.
As I write this, I am a Level 7 Local Guide, about halfway to Level 8, with the highest Level being 10. I like adding to Google Maps, and try to do this with integrity. Friends and friends of friends come to me for my advice about businesses in Kansas City, so I think I'm on the right track with my reviews. You can learn about becoming a Local Guide here. 
I received an email from Google in the Spring of 2019 inviting me to apply to attend a summit they now call Connect Live which brings together, this year, about 200 Local Guides (LG) level 6 (or 5?) and above. [I have since learned there are about 120M local guides, across 24K cities and towns!] So, I applied. With zero expectation of being accepted, there I found myself, in San Jose, November 2019.
From the get-go, Google treated us like we were really special. We were welcomed with backpacks (which absolutely came into use) filled with goodies and as day one was on my birthday, they even gave me a hand-written birthday card. That's class!
I learned these LGs were coming from 64 countries (six continents), and I was excited to meet people with such rich cultural diversity. The first thing we all seemed to have in common was the belief there was no way we'd be chosen to attend! The next was that we think it's fun to traverse our cities and to share what we experience. Most of all, the thing I immediately found in each person was that they were genuine.
For the first night's reception, we were welcomed to show our nation's pride, and I simply loved how many people dressed up! I absolutely didn't get enough photos with them all. People also brought trinkets or candies from their homeland. I left with so many neat treats and buttons! Attendance at Connect Live was such a gift, but Google followed that up by giving us all Pixel phones. I've always heard the cameras on them are amazing and I'm so excited to see how better my uploads to Google Maps will look!
After a delicious breakfast and lots of coffee for our early start, we loaded onto the bus. Lots of bus rides meant lots of quality time to learn from each other why we're LGs, how we use the LG program, and honestly for me – more ways to share on Google Maps. (It was particularly great to meet Luis, whose birthday was on the final day of CL.) As soon as we arrived, the energy was bursting and we could not wait to see what Google had to present to us at this conference.
From here on out, we could not get enough selfies!
I learned so much from the other LGs about ways to use Maps, and I learned so much from Google about what the 120 Million LGs around the world are doing. And can I tell you – it's astonishing! One of the things Google would like to see us do more is to write in our reviews which businesses are accessible to those in wheelchairs, with walkers, canes or even strollers; and those businesses with gender-neutral restrooms. I can't tell you how much I love this! I am a member of the Diversity and Inclusion club in Kansas City, and this is a passion of mine. Google isn't just giving lip service on this, even at the conference, they were captioning what was being said. This could benefit those with hearing problems, but also this supported the understanding of the large majority of attendees for whom English is not their first language. Reference back to where Google gave me a handwritten birthday card…..because I'm back to writing about how genuine Google is. At the sessions, Googlers also specifically recognized so many of the individuals who were at Connect Live, and not once did they stutter over anyone's name. There were so many nationalities, and names of all kinds, and each person who spoke from the stage did their research and seamlessly recognized the top LGs' names. This is more important than I can tell you!
This was such an amazing experience that I was so lucky to have. Google has it right – Us Local Guides love to talk about the businesses worth visiting, the places worth seeing, the food worth eating, the experiences worth having, and the things worth doing!